Yep, that's the joke. That's all it was. Sorry to keep you in suspense.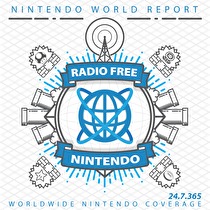 Subscribe via iTunes (Please rate and review, too!)
We're back for another action-packed episode of RFN! First up is New Business, in which Jonny tries Puzzle League Express (another from DSiWare!) and the first few minutes of Virtual Console import Mysterious Murasame Castle, just out in America for the first time ever. Jon checks into Super Mario Kart, the latest big upgrade for Wii U Virtual Console, he also falls deep into the Resogun hole with his brand new PS4. James defies his own instincts to try Dillon's Rolling Western and... you can guess the rest. Guillaume completes the segment with a trio of classics(?): NES Baseball, Donkey Kong Jr., and Iwata's own Vegas Stakes.
Instead of Now Playing, this week's interlude is a special kick-off to our campaign for RFN 400. Hopefully we said something that sounds appealing, and if so, please read more about it and consider donating at the GoFundMe campaign page. We are so excited about this opportunity and can't wait to see how the experiment goes!
Getting back to the show, it's time for Listener Mail. This week's batch covers our hopes/dream/fears for the new Star Fox game on Wii U, plus a bit of discussion on the book Console Wars and its 16-bit subject matter, and then we top it off with some additional thoughts on practical issues (and solutions!) for a digital-only handheld system. Won't you send in a great email like the ones on this episode?
Once more, the funding campaign for RFN 400 has way more details about our plans for the upcoming anniversary and the ways you can be involved and support the show's next big milestone. Please check it out if you like what we do!
This podcast was edited by Guillaume Veillette.
Music for this episode of Radio Free Nintendo is used with permission from Jason Ricci & New Blood. You can purchase their newest album, Done with the Devil, directly from the record label, Amazon (CD) (MP3), or iTunes, or call your local record store and ask for it!
Additional music for this episode of Radio Free Nintendo is copyrighted to Nintendo and is included under fair use protection.