Hear about the games we're playing this summer, then hear our thoughts on summer gaming in general. Plus: is it time for a 3DS upgrade?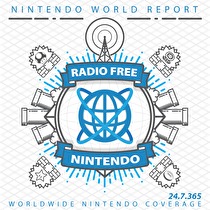 Subscribe via iTunes (Please rate and review, too!)
Jonny returns to hosting duties for this episode, and it starts with yet another weird package of New Business from your RFN crew. Your intrepid host begins with his Club Nintendo Gold Reward, the arrestingly mediocre Donkey Kong 3. After that vacuum of excitement, Jonny had to bounce in full reverse to the overly extreme Call of Duty: Black Ops 2 (super-solid Wii U version). Guillaume brings words of caution over Mr. Driller 2's debut on Virtual Console, and he also checks in with the curiously durable Tomodachi Life and not-bad-for-zero-dollars Game & Wario. Lindy works his MMO-splainin' magicks on Final Fantasy XIV, which is the first of its kind to snare in skeptical Jonny. Rounding up all the business that is new, James revisits a childhood favorite(?), Bases Loaded. Turns out, this may be the least enjoyable NES baseball game.
Under the fold, we have a mini-feature discussion on summer gaming. How do the hotter, more relaxed months affect our video game tastes and habits? Turns out, gaming may be much less seasonal upon reaching adulthood. The brief feature topic allowed enough time for one email this week, and it's a familiar query. What's next for the 3DS platform? It's our first time addressing the issue since E3 and the Wii U's upgrade to greener pastures over the last couple of months. The team is definitely divided on this one!
Please keep up the great emails by sending in your own questions, comments, and ideas to the Radio Free Nintendo dudes. Also, be sure to check out Jonny's recent guest spot on the much-loved Player One Podcast. We'll try to get them on RFN soon, too!
This podcast was edited by Guillaume Veillette.
Music for this episode of Radio Free Nintendo is used with permission from Jason Ricci & New Blood. You can purchase their newest album, Done with the Devil, directly from the record label, Amazon (CD) (MP3), or iTunes, or call your local record store and ask for it!
Additional music for this episode of Radio Free Nintendo is copyrighted to Nintendo and is included under fair use protection.