After doing this for years you would think everyone would have built up a camaraderie, but in the end everyone's just trying to be the first to escape.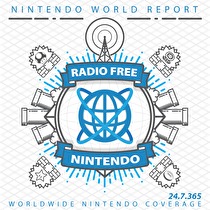 Subscribe via iTunes (Please rate and review, too!)
As Jonny raced home from the airport, the SS Radio Free Nintendo pulled out of harbor with Captain James at the helm. Joined by First Mate Gui and Cabin Boy Jon, they managed to safely traverse the dangerous seas of New Business. James continues his voyage into the legal system with the fan translation of Ace Attorney Investigations 2 and then pulls into the familiar waters of the Wind Waker HD. Guillaume then charts a course for Herc's Adventure, a follow-up from the creator of Zombies Ate My Neighbors, and Game & Wario, his free Club Nintendo Platinum reward. Finally, Jon looks at the rather limited selection of the Club Nintendo Gold Rewards before talking us into the halls of Super Castlevania IV.
After the break the seas get a bit rougher for our brave crew. An examination of Nintendo's recent patent filings is followed by a spirited discussion of which Nintendo executive is the biggest "beefcake." The crew reenters the stable seas with questions about our love of Nintendo and Summer Games Done Quick. Finally, for our last email, the intrepid ship is boarded by Dr. Jonathan Metts - just in time for a discussion on how to make podcast conversation sound organic.
This podcast was edited by Jonathan Metts and James Jones
Music for this episode of Radio Free Nintendo is used with permission from Jason Ricci & New Blood. You can purchase their newest album, Done with the Devil, directly from the record label, Amazon (CD) (MP3), or iTunes, or call your local record store and ask for it!
Additional music for this episode of Radio Free Nintendo is copyrighted to Nintendo and is included under fair use protection.