This is what passes for normal on RFN.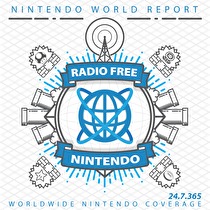 Subscribe via iTunes (Please rate and review, too!)
We liked hearing that some of you really enjoyed last week's E3 predictions show... but it's time to get back to business! New Business, that is, with a handful of new Wii U and 3DS games to discuss. Guillaume leads off with Scram Kitty and His Buddy on Rails; despite the clunky title, both he and Jonny really like this weird, challenging eShop exclusive for Wii U. James shows up with the only "Nontendo" game this week, but it's worth bending protocol for the delightfully bizarre Catherine. He even draws an interesting comparison between the Atlus game and Pushmo, which has a sequel coming soon to Wii U. Jon goes back to the well for Super Mario Bros. 3 and has finally lost his patience for this difficult retro classic on Virtual Console. Could it be that we played the game differently as children? Jonny's up next with a sweet return to Pokemon X/Y, the beautiful and streamlined 3DS game that still needs work in the user interface department. Going back around with the time remaining, Gui checks out Mega Man IV for Game Boy, and Jon walks us through next week's Wii U indie release, I've Got To Run.
Listener Mail is the feature this week, and we start with the 2012 Zelda Wii U graphics demo and how the real game might compare to it. Next up is a bit of life advice about gaming after high school and winning at college/life. We then talk about Wara Wara Plaza for longer than Nintendo spent choosing that name, including how it relates to the upcoming Quick Boot-up feature. Finally, one listener shares his idea for NFC figures relating to one of the strangest Super Mario games in Nintendo's history.
E3 is next week (oh God) and that means time is running out to twist yourself into a hype-fueled frenzy by emailing our podcast with your premature questions and predictions! Also, be sure to hear Jonny's guest appearance on the latest episode of Radio Trivia: Podcast Edition.
This podcast was edited by Jonathan Metts and James Jones.
Music for this episode of Radio Free Nintendo is used with permission from Jason Ricci & New Blood. You can purchase their newest album, Done with the Devil, directly from the record label, Amazon (CD) (MP3), or iTunes, or call your local record store and ask for it!
Additional music for this episode of Radio Free Nintendo is copyrighted to Nintendo and is included under fair use protection.