Here's the recording of our complete live episode, including RetroActive for F-Zero X and GX.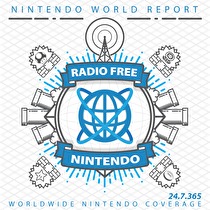 Subscribe via iTunes (Please rate and review, too!)
Back in November's telethon, your donations carried us to a stretch goal for a live RetroActive with Greg. We chose F-Zero X (N64) and F-Zero GX (GameCube), and in the end, we decided to just do an entire RFN episode (including Now Playing...) for the live audience. This is the full recording of what went down.
It starts, as usual, with New Business. James immediately gets us into the racing mood with his thoughts on Need for Speed: Most Wanted U. Jon has a follow-up on Link Between Worlds, and it proves an opportunity for Greg to also chip in his thoughts on the new Zelda. Greg's own picks are DuckTales Remastered and, oddly enough, Castlevania 2: Simon's Quest. Guillaume is not really feeling D&D: Chronicles of Mystara on Wii U, while Jonny is ambivalent on StarTropics 2 despite loving the first one.
After a brutal, totally unedited edition of Now Playing (send all correspondence to James), we finally delve into the showcase pair of F-Zero classics. These games are certainly similar but also deeply divergent in several key aspects, making for quite an interesting back-and-forth among our live panel. You'll hear from a few callers, and we brought in chat room comments with the help of TYP, but most of this 90-minute RetroActive consists of fair and often frustrated discussion among the main RFN group. It turns out that yes, indeed you can have a good conversation about racing games!
As always, we welcome your emails on anything from this episode or elsewhere in the world of video games. Also, be sure to check out Jonny's guest appearance on the Back in My Play retro-themed podcast, in which he valiantly defends Milon's Secret Castle for NES! It's a really fun show that will prove an easy listen for any fan of our own RetroActive features.
This podcast was edited by Jonathan Metts.
Music for this episode of Radio Free Nintendo is used with permission from Jason Ricci & New Blood. You can purchase their newest album, Done with the Devil, directly from the record label, Amazon (CD) (MP3), or iTunes, or call your local record store and ask for it!