We may not have adequately explained NES Remix, but it's not for lack of trying.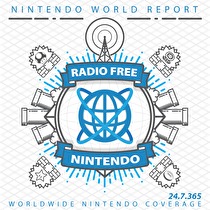 Subscribe via iTunes (Please rate and review, too!)
It's our last episode of 2013, and we have a new guest in Jon's chair this week: Dave Mellert, a fairly recent addition to the NWR staff who we met years ago at PAX East. We kick off with some brief comments on the response to last week's episode and a coarse rundown of the latest Nintendo Direct.
In New Business, James spends plenty of time trying to explain NES Remix. Not only do he and Guillaume have difficulty describing this downloadable oddity, they're also unsure just what they think of it. Gui finally gets to start Zelda: Link Between Worlds, too. Dave turns the light on Animal Crossing: New Leaf, a game we haven't discussed in months. It sounds like the holiday season is a great time to jump back in. Jonny closes the segment with early impressions of Ys Seven, which is of course one of the newest entries in the Ys franchise that we covered on RetroActive not too long ago.
You can probably guess that Listener Mail would cover at least a tiny sample of the extensive feedback we received from last week's show. But we get started with a fun letter about the pure addictiveness of Super Mario 3D World, which gives us an excuse to slip in some extra impressions from the panel. Next up is a tour though memorable Christmas/winter themes in video games, as well as a couple of holiday gaming memories. In the end, we do get around to dealing with the Wii U sales fallout and the inevitable question of Satoru Iwata's solvency as President/CEO of Nintendo. Naturally, we all looked to James for an expert opinion on Japanese culture and how the current situation might affect Iwata's job security. What we didn't expect was an epic, incredibly deep, occasionally inscrutable treatise on Japanese macroeconomics, monetary policy, and corporate intrigue. James goes far beyond a simple prediction to look at the situation in a way you aren't going to hear on any other podcast. The man is an international treasure. And the short answer is: no, Iwata is probably going to be fine for now.
If you too would like to send in thoughts on the latest games, hype for upcoming releases, or reactions to sales numbers, send us an electronic letter! Also, don't forget to start playing F-Zero X (N64) and/or F-Zero GX (GameCube) for the upcoming live RetroActive!
This podcast was edited by Guillaume Veillette.
Music for this episode of Radio Free Nintendo is used with permission from Jason Ricci & New Blood. You can purchase their newest album, Done with the Devil, directly from the record label, Amazon (CD) (MP3), or iTunes, or call your local record store and ask for it!
Additional music for this episode of Radio Free Nintendo is copyrighted to Nintendo and is included under fair use protection.