Here are a few of our favorite things... about Nintendo.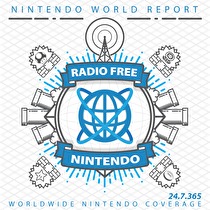 Subscribe via iTunes (Please rate and review, too!)
This week's show has a very positive vibe, overall. It helps that our feature topic is Things We Love About Nintendo, Right Now. But even New Business kicks off with radiant impressions of Wind Waker HD from Jonny, who wasn't really expecting much from that package. Positivity takes a temporary dip for Gui to talk about the abysmal Castlevania: The Adventure (old school Game Boy on 3DS Virtual Console), and it's murky at best for a Ni No Kuni update from James. Jon is back on the bright side for Monster Hunter 3 Ultimate (he's still obsessed with the portable version, for now). With some time left in the segment, we roll back around to Jonny for the subtly updated Toki Tori 2+, which he now thinks is one of the year's best Wii U games. Gui is also cheery about the Rayman conversion for Game Boy Color, also available digitally, which may be the best edition of that classic franchise-starter.
After the Now Playing break, and perhaps in honor of Thanksgiving (sandwiched between the Canadian and American observances), we spend over half an hour espousing some trends with Nintendo that fill us with glee. The idea here was not to lean on nostalgia, or even to get excited about what's coming soon, but rather to balance out our typical cynicism with a litany of things we really do love about Nintendo, happening right now. We honestly weren't sure how well this would go, but it played out wonderfully and left us feeling really good about some things, even though we may still hold reservations about the company's status.
Don't miss the happy train -- send in your own positive thoughts about Nintendo, or any other ideas/questions, for an upcoming edition of Listener Mail. And please mark your calendar for the 4th Annual NWR Live Telethon for Child's Play! It's coming up on Saturday, November 23 starting at Noon Eastern and running for (hopefully) several hours. More details are coming soon!
This podcast was edited by Guillaume Veillette.
Music for this episode of Radio Free Nintendo is used with permission from Jason Ricci & New Blood. You can purchase their newest album, Done with the Devil, directly from the record label, Amazon (CD) (MP3), or iTunes, or call your local record store and ask for it!
Additional music for this episode of Radio Free Nintendo is copyrighted to Nintendo and is included under fair use protection.