Loads of hot new games appear in New Business, and we answer your E3 emails!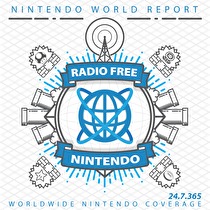 Subscribe via iTunes (Please rate and review, too!)
It's our first show back from E3, and the gang of four is all here to welcome you to a post-E3 world of Nintendo. We kick off with games games games, many of them quite new. Gui has very early impressions of New Super Luigi U, while Jonny tries Animal Crossing for the first time with New Leaf on 3DS. Lindy catches up with the recently virtualized Legend of Zelda: Oracle of Ages, and James is utterly delighted by the wacky Project X Zone demo. On the second round of New Business, you'll hear Guillaume's interesting comparison of Luigi's Mansion: Dark Moon to Wario Land 2, while Jonny takes a look at The Denpa Men 2, an eShop sequel that goes far beyond its recent predecessor.
We originally tried to get Billy on for Listener Mail, but he was pulled away by work at the last minute and will hopefully be back for a full show very soon. The regular crew take on some pretty heavy questions about Nintendo's performance at E3, and what can be done in the aftermath. The emails indicate a wide range of reactions to this year's Nintendo lineup and E3 strategy, and you'll hear some disagreements among us on the show, too. Whether we plan to swim in a pile of 2D platformers or a puddle of our own tears, one thing is clear: it's summer (in the northern hemisphere), and we all want to go swimming.
Help fill the pool with your own questions and comments, and you can be part of the summer fun on a near-future episode! All the cool kids are doing it. And in case you missed the link last time, do check out Jonny's E3 discussion with some of his podcasting heroes over at Weekend Confirmed.
This podcast was edited by Guillaume Veillette, Jonathan Metts, and James Jones.
Music for this episode of Radio Free Nintendo is used with permission from Jason Ricci & New Blood. You can purchase their newest album, Done with the Devil, directly from the record label, Amazon (CD) (MP3), or iTunes, or call your local record store and ask for it!
Additional music for this episode of Radio Free Nintendo is copyrighted to Nintendo and is included under fair use protection.