The brain (Greg), heart (James), and soul (Jon) of RFN combine for a two hour meandering discussion of E3 2013, the future of Wii U, and the future of Nintendo's involvement with the annual convention.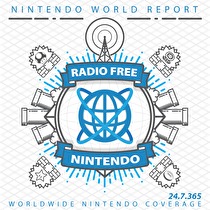 Subscribe via iTunes (Please rate and review, too!)
It's E3, so while Jonny and Gui are at the show - and misappropriating the Radio Free Nintendo label - Jon and James are at home getting the work done for the site. Well, James is.
Just because they aren't there doesn't mean they don't have thoughts on the show. And of course, longtime friend and former RFN member Greg Leahy is equally opinionated, so it only stands to reason James should get the band back together.
Alas, international time zones are once again a cruel mistress so we were forced to record Jon and Greg separately. That does mean you get two uninterrupted hours of James hosting, so you'd be forgiven for skipping this episode.
That said, I wouldn't recommend it. Greg and James lead off by reviewing the news and reacting to it announcement by announcement. A fair bit of speculation accompanies mostly rational reactions. In the second segment Jon and James plumb Nintendo's involvement with E3 in light of their use of the Nintendo Direct and their Best Buy demos. They combine their years of experience covering the show in person and from home to speculate where this will lead. Hint: Make E3 about having the media engage with the people making the game and less about playing them.
Also, don't miss a Now Playing segment conducted entirely by James. It's a mix of exhaustion and desperation. Enjoy!
This podcast was edited by James Jones...sort of