RFN: No Jons, 50% Canadian.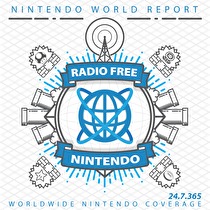 Subscribe via iTunes (Please rate and review, too!)
Jonny was out traveling this week and Jon is still out, so James was charged with not just pulling together not just a show but a cast. Nate rejoins the show this week along with first-time guest Donald "Shaymin" Theriault, the host of Nintendo Free Radio - a podcast for the NWR forums, by the NWR forums.
We start the show with New Business this week. Donald goes all-out Pokemon. First he talks about Pokemon Black 2, and the rest of the crew grills him to justify its existence. He hits the Pokemon well again with Pokemon Dream Radar; it turns out AR Pokemon sounds about as fun as it is. Nate takes us on a strange journey though the utterly inexplicable world of Asura's Wrath. Guillaume explores co-operative gameplay with Kirby Super Star and delves into Lara Croft and the Guardian of Light. James wraps up New Business digging himself into a very deep hole in the Xbox Live Arcade version of Minecraft.
After the break we move into a set of feature discussions. Inspired by this article, first we share our thoughts on Nintendo's recent (and not so recent) procurement of Japanese franchises. It turns out it isn't easy to determine the larger effect Nintendo publishing Bayonetta on the larger Japanese gaming market. Our second topic is a more in-depth discussion of Nintendo's marketing strategy for Wii U, one month from the launch window. With all of these features, how are they supposed to sell this thing?
Just a reminder, the NWR Live Podcast Telethon is just a few weeks away! It's for the children, so be sure to mark it on your calendar. This week's guest Donald and the rest of the Nintendo Free Radio crew will host their own hour, but only if you donate! Also, remember to send us listener mail, it's been a little slow so there's a pretty good chance we'll use it on the show!
This podcast was edited by Guillaume Veillette.
Music for this episode of Radio Free Nintendo is used with permission from Jason Ricci & New Blood. You can purchase their newest album, Done with the Devil, directly from the record label, Amazon (CD) (MP3), or iTunes, or call your local record store and ask for it!
Additional music for this episode of Radio Free Nintendo is copyrighted to Nintendo and is included under fair use protection.