It's Greg's last show, but we manage to talk about Nintendo anyway.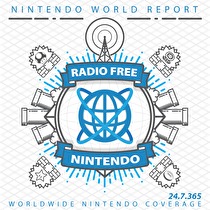 Subscribe via iTunes (Please rate and review, too!)
Well, it's time for that episode. Despite the sad theme of Greg leaving RFN, we celebrate him and all the great times with games, memories, funny clips, and only a few tears. But first... New Business! James starts it with his decidedly mixed impressions of Resident Evil: Revelations for 3DS. Greg's next with Game & Watch Gallery 2, a belated date with Castlevania: Portrait of Ruin, and some comments on Treasure's Advance Guardian Heroes (though the impressions are actually from Lindy, who wrote the original review for NWR). Jonny reaches the absurd final track in MotoHeroz, completes a digital transition with Darksiders, and continues his journey through Xenoblade Chronicles. Jon closes it out with his own little tribute -- Radiant Silvergun on XBLA. Too bad Greg can't play it himself... or can he?
After the break, we begin the long goodbye with a pair of Listener Mails, hand-selected by Mr. Leahy as questions he really wanted to answer before he left. The first one's about our hopes for the Wii U launch lineup of games; the other one asks us to look at Nintendo's efforts to reclaim core gamers and how Metroid might fight into that strategy. As always, you can send in your own questions for the new RFN crew-to-be. And special thanks to the hundreds of you who've sent kind words for Greg over the NWR forums, email, Twitter, Facebook, NeoGAF, etc. Your words are truly inspiring.
After much stalling, we have to begin the damnable process of saying farewell to our charming Brit editor, and he to the rest of us. There are gut-wrenching moments, but we managed to pierce through the melodrama with humor whenever possible. A brilliant best-of clip edited by Guillaume certainly helps, and Greg also describes in some detail how he selected and trained his successor. But the focus here is on Greg himself, as we each take turns wrestling with our emotions and thanking each other for the amazing ride that has been the last four-and-a-half years. And then it's over.
We'll be back next week, with Guillaume and without Greg. No one knows just what the show will become, but it will be something different, and we hope you'll come along for the ride as we move on from this magical formula and try to alchemize a new one.
This podcast was edited by Greg Leahy.
Music for this episode of Radio Free Nintendo is used with permission from Jason Ricci & New Blood. You can purchase their newest album, Done with the Devil, directly from the record label, Amazon (CD) (MP3), or iTunes, or call your local record store and ask for it!
Additional music for this episode of Radio Free Nintendo is copyrighted to Nintendo and Square Enix, and is included under fair use protection.