Jonny returns to discuss games and game endings, plus a surprise guest joins the fray!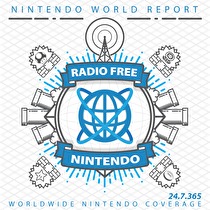 Subscribe via iTunes (Please rate and review, too!)
The crew is back together for this last episode before PAX East, but Jonny is immediately caught off guard by an unexpected voice -- it's Karlie Yeung! She came to America early for next week's convention and joined James at the microphone to break the curse of female guests on RFN, as you'll hear explained.
For New Business, Jonny catches up with Crush 3D, the stealth-released puzzle/platformer from Sega that may be worth your time to seek out. He also revisits Mutant Mudds (demo now available on the eShop) and tests the hypothesis that Rhythm Heaven Fever can be just as much fun to watch as it is to play. James and Karlie co-author audio impressions of Dokapon Kingdom, the bizarre party-RPG that turns out to be even weirder than anyone could expect. Jon didn't have any new games to bring up, so Greg wraps the segment. He mentions the extensive GAME store closures throughout the UK before continuing his adaptation to and enjoyment of Kid Icarus: Uprising, one of the most controversial Nintendo releases in quite a while.
After the break, we take an oblique approach to the Mass Effect 3 debate by examining the broader topic of game endings. The conversation spans endings retro to recent, Nintendo and otherwise, and we discover a few interesting truths about why games have endings, how they differ from other media, and why some are effective while others fail. It's a fun feature, but we still have enough time left to address a pair of questions for Listener Mail. One proposes a new review scoring method, while the other asks us to prioritize a gaming backlog. Send your own email questions so we'll have more to answer next time!
Don't forget that next weekend is PAX East, so there won't be a normal episode of RFN. Instead, we'll be live and in person at the Arachnid Theater for our third annual panel. If you can't make the trip this year, don't worry -- we'll record the panel and get it online as soon as possible. Also, the long-awaited RFN shirt will make its public debut at PAX East, but you can order your own right now. You can finally get your own for a reasonable price and show your support for the podcast without the pain or commitment of a tattoo!
Finally, it is time to spin up for the next RetroActive feature. We'll focus on WiiWare this round, so head over to the poll to view the nominated games and vote for the one you'd like us to play and discuss together on a future episode!
This podcast was edited by Greg Leahy.
Music for this episode of Radio Free Nintendo is used with permission from Jason Ricci & New Blood. You can purchase their newest album, Done with the Devil, directly from the record label, Amazon (CD) (MP3), or iTunes, or call your local record store and ask for it!
Additional music for this episode of Radio Free Nintendo is copyrighted to Nintendo, and is included under fair use protection.