Nothing to see here, folks. (It's all in your ears).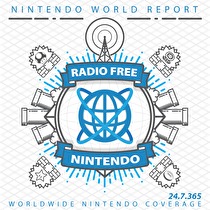 Subscribe via iTunes (Please rate and review, too!)
With James taking a rare week off, we looked to have a substitute but... things happen. So instead, you get a three-man show with plenty of gaming goodness. In New Business, Jonny checks out the hilarious, goofy 3DS download called Freakyforms (formerly known as Picture Lives!). He also checks in with Uncharted 3, which leads to a fun discussion of writing in video games, and he finally boots up BioWare's Star Wars: Knights of the Old Republic, or simply KOTOR. Jon catches up with his thoughts on last week's RetroActive game, River City Ransom, plus some reactions to the superb Batman: Arkham City, coming to Wii U next year. Instead of new game impressions, Greg comments on the initial Japan sales numbers for Super Mario 3D Land (in stores today for our North American listeners) and revisits the final hours of Twilight Princess to steel himself for the second coming of Zelda on Wii.
In the second half, we've got Listener Mail up the wazoo. First up is the high price of Resident Evil: Revelations and whether digital delivery could be the answer. Then we debunk speculation (from certain other podcasts) of Nintendo's imminent demise, and ponder whether there are any developer acquisitions that would make sense for the Big N as it makes the transition to HD software development.
In lieu of our regular show next week, we'll be podcasting live on Saturday, Nov. 19th starting at Noon Eastern. We hope you will be there and support this event as well as a great charity. If you can't make it, we hope to deliver a recording of the telethon roughly around the same time, and podcast subscribers should get it automatically. If you prefer to download episodes manually, check the event page next week for direct links to the recording.
This podcast was edited by Greg Leahy.
Music for this episode of Radio Free Nintendo is used with permission from Jason Ricci & New Blood. You can purchase their newest album, Done with the Devil, directly from the record label, Amazon (CD) (MP3), or iTunes, or call your local record store and ask for it!
Additional music for this episode of Radio Free Nintendo is copyrighted to Nintendo, and is included under fair use protection.