Here's the story of a sword that ain't from around these parts.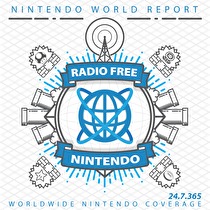 Subscribe via iTunes (Please rate and review, too!)
This weeks' episode starts with Jonny celebrating his long-delayed victory over Ganon in the original Legend of Zelda, plus an update on Final Fantasy 3/6 on Virtual Console and more progress in Castlevania: Lords of Shadow. James continues to be obsessed with Xenoblade Chronicles, but he has identified some minor flaws as well, even as Greg delivers early impressions of the game and Jonny prepares for his own overseas delivery. Jon has an interesting report on Dave Perry's Gaikai, the streaming service for game demos your PC shouldn't be able to run. Greg wraps up New Business with the overlooked Star Fox 64 3D multiplayer mode and his thoughts on one of WayForward's numerous 2011 releases, BloodRayne: Betrayal for PSN.
Around the bend, we reopen the mailbag for a torrent of emails. First, there's a pair of comments on Monster Hunter 4's importance for 3DS. We follow that with two distinct economic arguments relating to Xenoblade; these are sure to be controversial, but we had fun discussing them. We round out the segment with a grab bag of topics including Minecraft, bad controls, and The Grinder. Thanks to everyone who wrote in recently! You can send your email to the show with this handy contact form. Also, we're soliciting ideas for the next RetroActive in the forum thread for nominations.
This podcast was edited by Greg Leahy.
Music for this episode of Radio Free Nintendo is used with permission from Jason Ricci & New Blood. You can purchase their newest album, Done with the Devil, directly from the record label, Amazon (CD) (MP3), or iTunes, or call your local record store and ask for it!
Additional music for this episode of Radio Free Nintendo is copyrighted to Nintendo, and is included under fair use protection.