TYP joins James and Greg to discuss Ambassadorships, soundtracks, and the Python-esque destruction of civilization, plus a ton of your Listener Mail.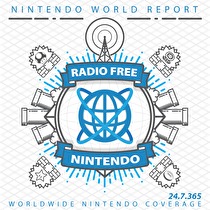 Subscribe via iTunes (Please rate and review, too!)
As was foretold during our last episode, Jonny couldn't join the RFN crew this week, but what we didn't see coming was the after-effects of Hurricane Irene leaving us another man down, as Jon was still without internet access at the time of recording. Nevertheless, James and Greg persevere with the assistance of Radio Trivia host Michael Cole, and there's no shortage of Nintendo discussion to be had with the rollout of the Ambassador Program and a bumper batch of Listener Mail waiting to be answered.
New Business begins with our experiences of downloading and playing our ten free NES games on 3DS, with the latter component being a lot more fun and intuitive than the former. Next, TYP and Greg keep us stuck in the past by discussing Gargoyle's Quest and Final Fantasy III/VI, before James closes out the segment with Rock of Ages, a surreal Atlus XBLA game that combines mythology, history, tower defense, bowling, and Monty Python. Spoilers: James thinks it's awesome.
After the break, we take a collective deep breath as we embark on a (relatively) high-speed Listener Mail odyssey, beginning with a trio of tales regarding new 3DS owners. We then look at the chances of Wii U reversing the decline of the home console market in Japan, the correlation between game length and value, and much more before our journey of listener interaction ends with a subject near and dear to all of our hearts: soundtracks. An aspiring composer asks us what we like to hear in our video game music--will our feedback set him on the path towards greatness? Stay tuned for the next few decades or so to find out!
This podcast was edited by Greg Leahy.
Music for this episode of Radio Free Nintendo is used with permission from Jason Ricci & New Blood. You can purchase their newest album, Done with the Devil, directly from the record label, Amazon (CD) (MP3), or iTunes, or call your local record store and ask for it!
Additional music for this episode of Radio Free Nintendo is copyrighted to Nintendo, and is included under fair use protection.