On this three-man edition of the podcast, we discuss Shakespeare and the Super Mario Bros. movie.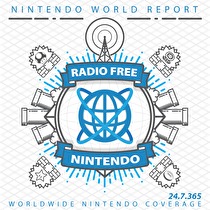 Subscribe via iTunes (Please rate and review, too!)
Jon couldn't make it to our recording this week, but we soldiered on with the trio of James, Greg, and Jonny to discuss games one more time before the E3 2011 festivities. (We'll have multiple episodes from the big show, so be sure to check the NWR podcast page and refresh your Radio Free Nintendo subscription frequently during E3!)
This isn't really a pre-E3 show, but we couldn't help bringing up a few E3-ish topics right off the bat, before heading into our weekly game impressions. James has been too busy for much gaming, but Jonny returns with two weeks of New Business after missing the segment last time. It starts with Dragon Quest VI, which he's now played enough to comment on the game's differentiating strengths: world exploration and a streamlined job system. Your discriminating host also wrings his hands over Bayonetta, the flashy and tasteless Devil May Cry successor from Platinum Games. Bringing the segment to a relatively quick end, Greg finally discovers a few unique qualities to the original Bangaioh for N64. That leads us into a fun tangent on oddball N64 accessories and other retro musings.
Listener Mail begins with a pair of questions that draw immediate "NO" responses from the crew, but both also lead into deeper conversation as you've come to expect. Hear us discuss Shakespeare-Miyamoto comparisons, the concept of "killer apps", adding Metroid-style exploration to other franchises, the best candidates for game-to-movie adaptations, a return to the question of hype, and finally, a listener's very own set of predictions for E3 and beyond. Please send even more awesome questions and ideas!
RetroActive will return after E3, when we'll take a look at the story campaign of Perfect Dark. Remember that it can be played solo, co-op, or Counter-Op! And it has a wise-cracking alien named Elvis. So that's a thing. Drop your memories and/or newly formed opinions on Perfect Dark in the official forum thread!
This podcast was edited by Greg Leahy.
Music for this episode of Radio Free Nintendo is used with permission from Jason Ricci & New Blood. You can purchase their newest album, Done with the Devil, directly from the record label, Amazon (CD) (MP3), or iTunes, or call your local record store and ask for it!
Additional music for this episode of Radio Free Nintendo is copyrighted to Nintendo, and is included under fair use protection.