It's E3 preview time!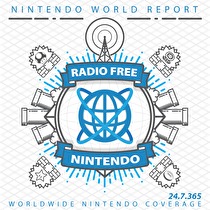 Subscribe via iTunes (Please rate and review, too!)
With a couple of weeks to go before the big E3 show and the debut of Nintendo's next console, Michael "TYP" Cole joins the RFN foursome to preview gaming's biggest event. But first, New Business! Greg scores a copy of the original Bangaioh for N64, and we also check in on his very first play-through of Final Fantasy 3/6. James has a few comments on Ghost Recon: Shadow Wars, the 3DS strategy title that may not be as good as you've heard. Continuing on the Transcontintental Chrono Train Express, Lindy battles pink robots (possibly with the help of Yoshimi) and searches for the Sun Stone. TYP revisits Yoshi's Island and, with Greg's help, compares the SNES original to its GBA remake and DS sequel. Finally, Jonny shares a heartwarming anecdote of cooperating with our friend Syn4ptik in a game of portals.
With TYP on the show and soon celebrating his 10th visit to E3 (just short of Jonny's 11th), we had to take this opportunity to knock out the annual RFN E3 Preview. Greg takes over hosting to guide us through his own discussion notes, as we analyze and speculate on Nintendo's plans for the show. It's a huge moment for 3DS, which must move beyond the launch window blues and establish itself as a major platform. There may not be a great quantity of Wii games coming down the stream, but the new Zelda is sure to be a huge presence, and there may be some RPGs announced, too. Most exciting of all, we know that Project Cafe will be shown and playable at E3, and our panel of experts lays down bets on just what, and how much, will be revealed. Check back in just a couple of weeks to laugh at our ignorance and innocence!
Listener Mail will return next week, so be sure to send in your questions and comments about the show or any gaming topic -- this web form makes it easy. We'll also have the first part of RetroActive, focusing on the multiplayer side of Perfect Dark. It's available on both N64 and Xbox Live Arcade, and you can connect with other RFN fans at the official forum thread. Don't forget to leave your comments on the game there, because we'll read some of the best posts on the air!
This podcast was edited by Greg Leahy.
Music for this episode of Radio Free Nintendo is used with permission from Jason Ricci & New Blood. You can purchase their newest album, Done with the Devil, directly from the record label, Amazon (CD) (MP3), or iTunes, or call your local record store and ask for it!
Additional music for this episode of Radio Free Nintendo is copyrighted to Nintendo, and is included under fair use protection.