Long before podcasts were invented, Jonny recorded these audio logs for his trip to E3, including first impressions of GameCube, GBA, and the Planet GameCube staff.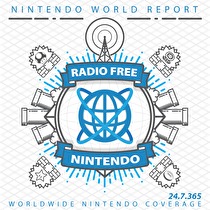 Subscribe via iTunes (Please rate and review, too!)
This special episode of Radio Free Nintendo is actually compiled from four separate audio files that I recently found on my hard drive. In May 2001, I returned to Los Angeles for my second trip to the Electronic Entertainment Expo. That year's E3 would be my first time attending with a group, as a staff member of Planet GameCube (now Nintendo World Report). It was also the first time anyone had played GameCube, the American debut of Game Boy Advance, and my first experience at a Nintendo press conference.
You'll hear about all of these experiences and much more in this four-part "audio diary" that I recorded long before podcasts existed as a concept. You also get to hear my innate Southern accent, before years of being around non-Southerners gradually suppressed it. I hope this blast from the past will be an exciting prelude to E3 2011, which has many overt parallels to that heady time of one decade ago. Please excuse the poor audio quality -- my equipment and recording technology has come a long way in the past ten years!
This episode was edited by Jonathan Metts.