New games, 3DS impressions from Japan, and your Listener Mail -- it's all inside!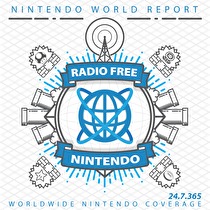 Subscribe via iTunes (Please rate and review, too!)
In this, our last episode before PAX East and the live panel foretold in legend, we talk about Nintendo and video games. It starts with New Business, in which Jonny checks out the final Bit.Trip game, a new PixelJunk title, and last year's sleeper hit, Enslaved. James polishes off Radiant Historia, while Greg gives us an update on the Japanese Virtual Console (FFVI is on the way!) and Treasure's import Bleach fighting game for Wii. Jon wraps the segment with very positive tales of playing Killzone 3 with PlayStation Move (just like on the Wii!) and the frustrations of playing a DS FPS online.
After a quick break, we time-warp into the future (and the third dimension!) with a short segment about the 3DS launch and post-launch experiences. Matt Walker, one of our mans in Japans, is the proud owner of a Nintendo 3DS and answers all our questions about that dandy device, as well as one of the biggest launch titles, Super Street Fighter IV: 3D Edition.
Finally, we return to our regularly scheduled podcast with your very own Listener Mail questions about Satoru Iwata's GDC keynote, more on the F-Zero series, 3DS remakes beyond Ocarina and Star Fox, Chrono Cross, the curiously low barrier of entry to Apple's gaming platforms, and knob-slobbing. Thanks for the great emails -- we'll see YOU in Boston!
This podcast was edited by Greg Leahy.
Music for this episode of Radio Free Nintendo is used with permission from Jason Ricci & New Blood. You can purchase their newest album, Done with the Devil, directly from the record label, Amazon (CD) (MP3), or iTunes, or call your local record store and ask for it!
Additional music for this episode of Radio Free Nintendo is copyrighted to Nintendo, and is included under fair use protection.