It's a celebration, bitches!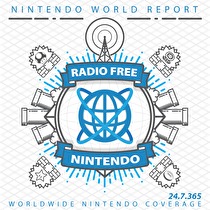 Subscribe via iTunes (Please rate and review, too!)
Jonny is back from the big festival in the sky, and he brought Karl with him for this special episode, celebrating three years of Radio Free Nintendo. It starts off with a beefy New Business covering such games as Deadly Creatures, Resident Evil 5, Virtual On, Space Harrier, Final Fantasy 4: The After Years, and much more. Greg also got a chance to play Nintendo's E3 demos in a special London event, so he shares thoughts on Sin & Punishment 2, Wii Sports Resort, etc.
Things really get rolling in part two, as Greg has lined up an extensive set of clips from old episodes. With James acting as DJ, we all hear the clips and react spontaneously, resulting in a lot of great discussions about our favorite and most embarrassing moments on the podcast. It's a very funny segment with loads of great moments from the past, including our individual debuts on the show and some awkward and/or legendary moments from the early days of the current RFN crew.
Credits:
This podcast was edited by Greg Leahy.
Music for this episode of Radio Free Nintendo is used with permission from Jason Ricci & New Blood. You can purchase their newest album, Done with the Devil, directly from the record label, Amazon.com, or iTunes, or call your local record store and ask for it!
Additional music for this episode of Radio Free Nintendo is copyrighted to Nintendo and Sega, and is included under fair use protection.