A modern rendition in a very classic formula.
I have to be very blunt: Game & Wario is not a new WarioWare title. While the game borrows from the franchise in some respects, Intelligent Systems' first Wii U venture offers a very different experience. It brings back the feeling of classic arcade action, but it is presented in a modern shell, which is not easy to convey. Game & Wario is not a single concept, but various ideas put into a blender. There are pitfalls along the way, but there is also certainly fun to be had.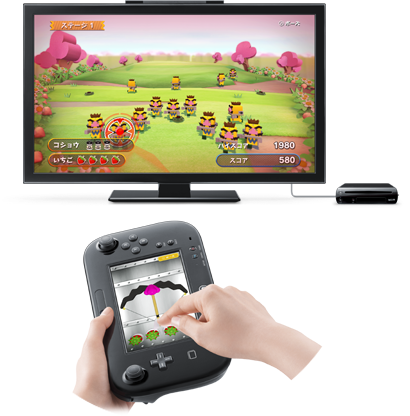 Game & Wario has a total sixteen different experiences going for it and some work better than others. For all players, the game begins with Arrow. In this mode, you hold the Wii U GamePad sideways and move in various manners to shoot at objects on the television screen. You will have to attack various Wario themed robots with your arrows while surviving. It is a fun, albeit brief, experience lasting only five stages.
Some of the games in Game & Wario offer an Endless Mode, allowing you to attempt new high scores. An exception is Pirates, a motion-control rhythm game in which no scores are present. While these are wacky and fun levels to play through, you are only rewarded with a rank at the end, which lessens the incentive to replay. A better example of a game with the Endless feature is Ski. This game, like several others in Game & Wario, has players holding the GamePad sideways and using the motion sensors to play. After a brief five-stage tutorial, the game shines in Endless mode, offering fun elements which keep it from growing stale. Between every section you can pick up cheerleaders, which is not only creates a cool conga line, but also nets you additional points. A similar thing is done with the game Kung Fu, where you use the GamePad for an overhead view. You move the controller around to make sure that the Young Cricket lands on safe ground and can prepare for this next jump. Along the way, you pick up Japanese style buns, which is where the similarities are. Both games require sharp skills to net a highscore, which is rewarding and very enjoyable.
Some of the games in Game & Wario contain objectives which continually change every time you play the game. An example can be found within Shutter, where you use the GamePad as a camera and have to photograph various folks. The specifics of who you will have to get on camera is a mystery before you start and this change in rules helps keep Shutter from ever going stale.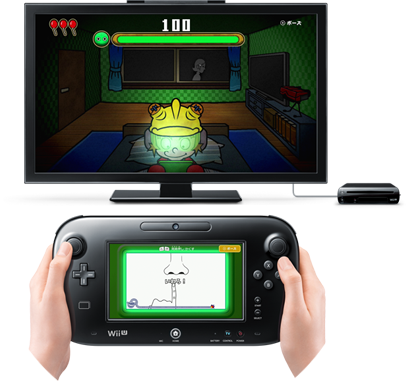 In another game, Gamer, 9-volt is told to go to sleep by his mother, but he would rather continue playing microgames. The GamePad display will see show WarioWare style microgames, but on the television you will see 9-volt's mother attempting to catch her son sleeping. She tries to worm her way in through electronic equipment, the outside window and sometimes just by going through the door. When this happens, you will have to press ZL and ZR to ensure you are sleeping. It's fun, but the selection of microgames is rather limited. This becomes even more apparent when you unlock the option to play the games outside of the context of Gamer and attempt high scores on them.
Taxi stands out with its unique relationship between the television and the controller. You use the GamePad to view your close surroundings and shoot spaceships down with ZL and ZR buttons. On the television, you will see a broad overview of the environment, giving you advance notice of events in the game. This is certainly needed, because the player will only have a limited scope on the controller. In the complete opposite side of the spectrum is Patchwork, which is a gigantic puzzle adventure for you to play through. There are roughly 90 stages, in which you have various patches to stitch together on the playing field. The end result varies greatly, from animals to classic Nintendo sprites.
The final two games in the regular adventure are possibly the weakest. In Ashley, you guide the young witch through three colorful stages, filled with cookies and deserts. The game doesn't feel unique, as the gameplay only requires you to steer the Wii U GamePad left and right. More or less, it feels a short version of a mobile phone game or something that could have been easily done with a Wii Remote. The GamePad shows a close-up view of Ashley, which isn't useful at all. The other is Design, in which you draw lines and objects of various sizes on the GamePad screen. While not necessarily boring, it lacks variety. After playing a few times the element of surprise is lost.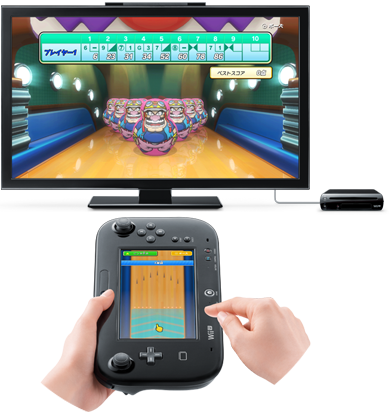 After you finish the required games, two more options will be made available: Bowling and Bird. Bowling may not seem exciting, but is surprisingly interesting. You hold the GamePad sideways and with a solid flick of the finger, the ball will roll across the screen. After the fact, you will able to tilt the GamePad and give the ball the right amount of weight. Bowling offers also a few challenges to complete, as well as some regular bowling match-ups. It's a surprisingly enjoyable experience, with a secret amount of complexity. Bird makes a re-appearance, having previously appeared in many WarioWare games and as a DSiWare-only title. On the GamePad you will see a Game & Watch style grid and on the television a Claymation variant. Neither view feels right; I would rather see the pixel graphics back in place. The game plays still quite alright and when you get in the zone, you can have a good time with it nonetheless.
As you play, you are rewarded with special chicken coins which can be spent at a toy capsule machine. Across the various capsules, you can unlock roughly 240 little trinkets, such as special hint cards, which will not only provide you with a piece of the soundtrack, but also give you an extra reason to replay the games. There are also plenty of special gadgets like mirrors and other items, extra games and so much more. It is a big grind to unlock every single thing in your cabinet, so by the end of the campaign, you will be far from done with Game & Wario.
Game & Wario includes four dedicated multiplayer modes. The most intriguing one is by far Islands, which supports up to five players, which you throw 3D Fronk creatures to platforms. The game contains a lot of ways to hold your interest, such as the seagulls, which steal Fronks or drop them at regular intervals. They will also change up the ways you score points, which can be a real detriment if you are currently in the lead. Another five-player game is Fruit, in which one of the players is a thief who steals apples. The other players will have to cooperate to find out who is the thief in a crowd filled with many people by watching the television closely as the person with the GamePad is plotting their next move. It is another enjoyable affair. Another game, Sketch, is very similar in concept to Pictionary and this game is likely to attract the same bunch as the popular drawing party game.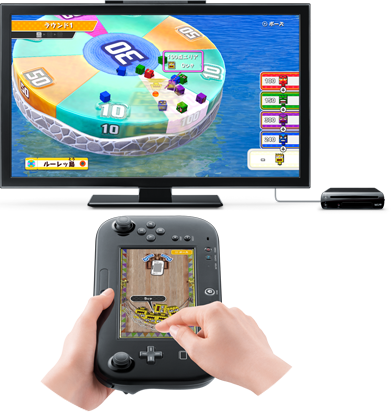 Finally, there is a two-player rhythm game called Disco. The game is best suited to be played on a table. Both players will sit opposite each other and control one side of the GamePad. The idea is that one player lays down various notes on the rhythm of the music and the other player will have to perform these perfectly. With every mistake made, the players who layered the notes will receive points. It is a cool concept, though the soundtrack is rather limited in scope which unfortunately makes this game not last longer than a couple of rounds. There are still plenty of ways to complicate matters with the other player, which does make a return appealing.
Game & Wario is a weird collection for the Wii U, and it won't appeal to everyone. Most of the games have at least some enjoyable ideas, which makes playing them worthwhile. Not every idea will keep you engaged for long and there are some which are a bust. The large number of collectibles requiring many coins will keep players going for completionists. If you are in the need for the next big thing, don't expect Game & Wario to deliver upon this, but if you are searching for an arcade hall experience and can you accept a few shortcomings, the game does offer fun. Sometimes, that's enough.