The blood ties that bind.
Though its story is rooted within the events of the console-only Lords of Shadow, released in 2010, Mirror of Fate borrows (mainly characters) from different points in the series.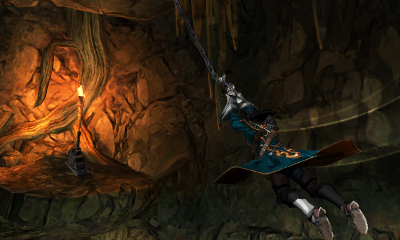 While Mirror of Fate's main story thread involves Trevor Belmont (the son of Gabriel, from the first Lords of Shadow) looking to avenge the death of this mother—who was in fact slain by Gabriel after his eventual transformation into Dracula—the game ropes in three other members from the Belmont lineage and the series' history, including Simon Belmont and Alucard.
Each character carries some unique template of abilities (Trevor Belmont relies on the Combat Cross, for instance), and it appears players will be able to carry over powers in some fashion as they play through the different eras of the vampire/human conflict. Standard powers present among the characters include direct and area attacks, dark magic attacks, the ability to grab and attack enemies using the R button, blocks performed with the L button, and a variety of secondary attacks (a chargeable boomerang was shown in the 3DS Software Showcase event).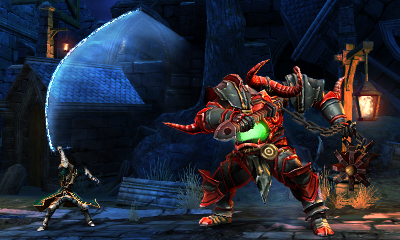 Players use standard platforming abilities (double jumps; swinging across gaps; etc.) to explore the ever-shifting environment of Dracula's castle, which they can track and take notes on using the 3DS touch screen.
Mirror of Fate is scheduled for a fall 2012 release.