FOREST ANIMALS IN SPAAAAAAAAAAACEEEEEEEEEE...and in 3D.
The Star Fox series has been known for implementing new technology and ideas in order to create a compelling gameplay experience. The first game on the SNES features 3D graphics thanks to the Super FX Chip, and the Nintendo 64 game was one of the first to feature rumble thanks to the Rumble Pak, bundled with the game. Nintendo returns to the N64 game and once again uses it to present us with new technology, this time through the 3DS's technological advancements.
For those unaware, Star Fox 64 is an on-rails space shooter in which players take control of Fox McCloud, the leader of a group of mercenaries for hire called Star Fox. On his team are Peppy Hare, Falco Lombardi, and Slippy Toad. They have been hired by the Cornerian Army in order to defeat the growing threat that is Andross, a mad scientist bent on domination of the Lylat system. It wasn't the most groundbreaking story at the time, but the presence of voice samples along with 3D cutscenes and force vibration made the original game very engaging.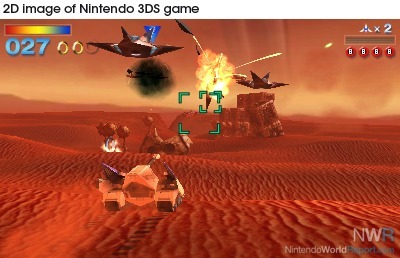 Updated textures and lighting abound in this 3DS remake.


The 3DS remake looks to follow the same storyline, although with a brand new aesthetic. The bottom screen of the 3DS will display the dialog boxes that were originally on the same screen in the original, and voice samples will also be present. Whether the whole story will be re-structured or not remains to be seen.
The first thing you will notice in this remake is its updated visuals. The N64 original - despite being blocky and prone to slowdown due to its heavy use of polygons, - was a visual wonder. The 3DS promises to take that even further thanks to updated textures, enhanced lighting and atmosphere and, of course, 3D. With the 3DS offering three-dimensional effects without the aid of glasses, Star Fox 64 3DS looks to benefit greatly. Based on previews and play tests from last year's E3 unveiling, the 3D effect will be used to give depth to the scrolling levels. Enemy ships will fly at you, while others will appear from behind.
Gameplay looks to be similar to the N64 version. You control your vehicle using the 3DS' slide pad, and the bottom screen displays the controls. Like the N64 game, you can expect to control other vehicles, like the Landmaster tank and the Blue-Marine submarine for underwater levels.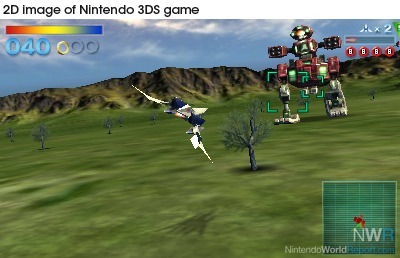 ALL-RANGE MODE!


At E3 2010, it was hinted that the game would feature some communication features, though exactly what those features will be has yet to be revealed. There were also hints that some changes were made to the original game, but once again, nothing has been confirmed.
No release date for Star Fox 64 3DS has been announced, although the title has been included in Nintendo's launch window.