You can disagree with the three I put in the headline being the most important. Check the rest of the article for the full list.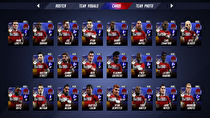 EA Sports and Metalhead Software revealed a slew of new real-life pro baseball Legends that will be playable in Super Mega Baseball 4 when it launches on Switch on June 2.
The Legends will be playable in the classic league with other fictional characters as well as the specific Legends League that is made up of two conferences: New School and Old School. Of course each Legends conference has their own unique team names, like the Mammotanks and Empire in the New School and the Originators and the Joyriders in the Old School.
Beyond that, you can use the Legends almost however you want, whether it's just a straight Franchise run with them, or customizing the players across different teams. In the Franchise mode, for example, you can start a league with the original Super Mega Baseball squads and then have the Legends show up as free agents from season to season.
The online mode Pennant Race works the Legends into the game in an interesting way as well. Every season for the online mode will have four Legends replace four players from the original Super Mega Baseball teams. Who the Legends are and what teams they end up on will be based on a variety of factors, including the usage of teams in the mode or what teams have lost more frequently.
In addition to the cover athlete David Ortiz and the already confirmed Babe Ruth, Hank Aaron, and Jose Bautista, here is the full list of newly confirmed Legends:
Vladimir Guerrero
Billy Wagner
Bartolo Colon
Mike Mussina
George Brett
Willie Mays
Rollie Fingers
Ozzie Smith
Mark Loretta
Ray Durham
Joe Mauer
Ryan Braun
Barry Larkin
Mike Napoli
Carl Crawford
Kyle Seager
Huston Street
Johnny Damon
Rick Ankiel
Fred McGriff
Latroy Hawkins
Joe Nathan
Brian Wilson
Ryan Dempster
Torii Hunter
Jamie Moyer
Bronson Arroyo
Fingers crossed Miguel Cairo is among the 240 Legends.