Beaten by a project that is technically also available on Switch. (In cloud form, hence the disclaimer.)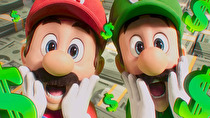 Mario's reign atop the box office has ended in the United States, though it's still the leading Chris Pratt project of the year.
The April 5 release was second in the US box office for its fifth weekend, pulling in an estimated $18.6m for a new US total of $518m. It trailed the third Guardians of the Galaxy film, with the Chris Pratt and David Bautista-helmed superhero movie pulling in the second largest opening of the year (behind Mario) at $114m.
The worldwide total for Mario is now estimated at $1.155bn, just behind the 2015 Minions movie as both the largest box office take in Illumination Pictures's history and the fifth largest box office for an animated film. In Japan, the opening weekend of Golden Week saw 1.276m tickets sold and a box office of 1.843bn yen (or approx. $13.67m at current market rates).