The old one was last seen doing a fair President Shinra impression.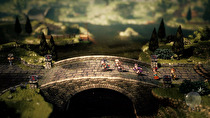 There's about to be a change at the top of Square Enix.
The board of the company has announced a vote to install Takashi Kiryu as the company's president at the next meeting of shareholders, replacing Yosuke Matsuda. The meeting is scheduled for early May.
Kiryu was previously Square's director of corporate communications and strategy, as well as business relations. In recent months, Matsuda has come under fire for aggressively pursuing the addition of the controversial non-fungible token (NFT) technology to games, including it in two separate letters from the president although no public plans ever emerged.