Is this sand as utterly busted as Dale Grubb's pocket sand?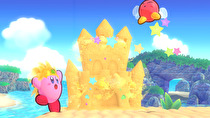 Nintendo have confirmed that some of the "Deluxe" content in next month's Kirby's Return to Dreamland Deluxe is new powers.
A social media post has confirmed that one of the new abilities is called "Sand". Using this ability, Kirby can form solid objects out of the coarse, rough, irritating material - including a castle for defense, and a fist. The "Festival" power, which debuted in Kirby: Star Allies (2018) will also be added.
The remaster of the 2011 Wii platformer has already confirmed the ability for all players to be Kirby in the multiplayer modes of the game; in the Wii game, players had to be King Dedede, Meta Knight, and a Bandana Waddle Dee.