Come get your duds in order, 'cause we're bound to leave tomorrow.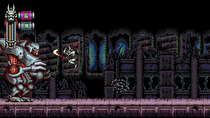 Things we missed last week: Galaga was your Archives release of the week.
Last week went from 17 releases to 40, but apparently all of the quality was held over to this week. We'll have a review for Vengeful Guardian: Moonrider this week so that seems to have Game of the Week honors, but I'm kind of interested in Playism's Sim Xenoblade Chronicles 2 called Drago Noka - a city builder set on the back of a giant dragon. Suhoshin is an interesting title in that it's an Eastern-set mystery VN that's actually set in Korea, as ooposed to Japan. And well, Burrow of the Fallen Bear is at least up front with what it is.
This week is mostly devoted to last bits of backlog diving until Persona 3 Portable / Fire Emblem Engage / Persona 4 Golden all drop next week, however. A couple of notes: We need 114 games to come out in North America before the end of the month to cross the total of 25+ years of Nintendo console hardware (NES -> Wii) in 25 MONTHS, and it's time to get the votes out for Bernadetta in the annual Fire Emblem Heroes Choose Your Legends poll: if you need convincing why, read this. And if you're wondering why this is coming up now as opposed to later this month, what did I just say about Engage coming out next week?
North America
Digital
Dragon Fury (US$24.99/C$28.99: Friday)
Go Rally ($20/$28.00: Friday)
Scrap Riders ($19.99/$24.99: Monday)
Children of Silentown ($19.99/$25.99: Wednesday)
Breakers Collection ($19.99/$28.19)
Drago Noka ($19.99/$25.99)
Burrow of the Fallen Bear: A Gay Furry Visual Novel ($19.99/$23.99)
Memorrha ($19.99/$26.99: Friday)
Suhoshin ($18.99/$21.79)
Vengeful Guardian: Moonrider ($16.99/$21.99)
Touhou Fan-made Virtual Autography ($14.99/$20.20: Wednesday)
Terror of Hemasaurus ($14.99/$20.13)
Fight of Steel: Infinifty Warrior ($14.99/$20.00)
Chasing Static ($14.99/$18.99)
Lone Ruin ($14.99/$18.89)
UnderDungeon ($13.99/$18.85: Friday)
Fury Fight: Gangsters of City ($12.99/$17.71: Friday)
Warp 7 ($11.00/$14.50: Monday)
Japanese Escape Games The Abandoned School ($9.99/$12.49)
NEScape! ($9.99/$13.32: Friday)
Salamander County Public Television ($7.99/$9.99: Friday)
Kids Party Checkers ($6.99/$8.99)
Pixel Game Maker Series Bomb Machine Gunzohg ($5.99/$7.99)
Lost Dream Stars ($4.99/$6.64: Tuesday)
Puzzle by NikoliS Heyawake ($4.99/$6.46)
Dusk '82 ($4.99/$6.99: Friday)
Back to Brother ($4.49/$5.99)
Snake Game ($3.99/$5.55)
Flipped On ($1.99/$2.65: Monday)
Corageous Deduction Nori 2 Betrayed Nori ($1.50/not releasing: Friday)
Brawl.io ($0.99/$1.34: Friday)
Archives
Senjyo ($7.99/$9.87)
Sales and Price Drops
Highlights: Nintendo's New Year's sale is on until January 15, a list can be found here with highlights including 30% off Persona 5 Royal and Link's Awakening. PSPrices, DekuDeals
Europe
Digital
Dragon Fury (€24.99/£19.99: Friday)
Scrap Riders (€19.99/£17.99: Monday)
Children of Silentown (€19.99/£17.99: Wednesday)
Breakers Collection (€19.99/£17.99)
Burrow of the Fallen Bear: A Gay Furry Visual Novel (€19.99/£17.99)
Go Rally (€19.99/£17.99: Friday)
Memorrha (€19.99/£17.99: Friday)
Drago Noka (€19.50/£17.59)
Vengeful Guardian: Moonrider (€16.99/£13.99)
Suhoshin (€15.99/£14.39: Wednesday)
Chasing Static (€14.99/£14.99)
Terror of Hemasaurus (€14.99/£13.49)
Lone Ruin (€13.99/£12.99)
UnderDungeon (€13.99/£12.59: Friday)
Fury Fight: Gangsters of City (€12.99/£11.69: Friday)
Fight of Steel: Infinifty Warrior (€12.50/£11.29)
Touhou Fan-made Virtual Autography (€12.49/£10.75)
Pixel Boy - Lost in the Castle (€11.99/£10.79: Friday)
Warp 7 (€10.00/£9.00: Monday)
NEScape! (€9.59/£8.59: Friday)
Japanese Escape Games The Abandoned School (€8.99/£7.49)
Salamander County Public Television (€7.99/£6.99: Friday)
Kids Party Checkers (€6.99/£6.29)
Pixel Game Maker Series Bomb Machine Gunzohg (€5.99/£5.39)
Lost Dream Stars (€4.99/£4.49: Tuesday)
Puzzle by NikoliS Heyawake (€4.99/£4.49)
Back to Brother (€4.49/£4.09)
Snake Game (€3.99/£3.59)
Flipped On (€1.99/£1.79: Monday)
Brawl.io (€0.99/£0.89: Friday)
Archives
Senjyo (€6.99/£6.29)
Japan
Children of Silentown (¥2900)
Memorrha (¥2499)
Vengeful Guardian: Moonrider (¥2420)
Chasing Static (¥2090)
Sunwards (¥2059)
Yeah! Fighting Girl (¥2030)
Breakers Collection (¥2000)
Drago Noka (¥1980)
UnderDungeon (¥1894)
Rush Rally Origins (¥1800)
Fury Fight: Gangsters of City (¥1768)
Fight of Steel: Infinifty Warrior (¥1550)
What's Your Name? (¥980)
Senjyo (¥838)
Pixel Game Maker Series Bomb Machine Gunzohg (¥660)
Puzzle by NikoliS Heyawake (¥500)
The Difference Between The Ideal And Reality (¥420)
Romeow in the Cracked World (¥389)
ET Varginha (¥300)