We got everything here; deck building roguelikes, pet sims, giant drills... and kidnapping victims?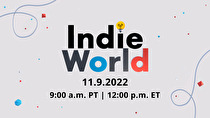 Aside from Sports Story's release window and the items out today, the Indie World show also included the following:
3D pet simulator Wobbledogs is the next to launch, coming next Thursday (November 17) and with preloads open.
Goodbye World, an adventure game about game developers struggling to make ends meet that will include retro-style minigames, launches in November.
The famous PC roguelike deck builder Inscryption will come to Switch via Devolver on December 7.
Aka, a "small world" adventure game, will follow on December 15.
A Space for the Unbound, the adventure title set in the Philippines that was slated to be published by PQube before a legal dispute, has cleared the legal hurdles and has announced a January 19 release date published by Chorus Worldwide.
Blanc, the monochrome co-op platformer shown in the last Nintendo Direct, confirmed a Valentine's Day (February 14) launch.
Oni: Road To Be The Mightiest Oni is a 3D action/fighting hybrid where two characters will be controlled on one Joy-Con (or other controller) simultaneously: it is slated for March 9.
Have A Nice Death, an action roguelike involving destroying the bureaucracy of the underworld, has been announced by Gearbox for a March 22 release. Discounted preorders are open now.
Storyteller (published by Annapurna) will allow for building - or rebuilding - of stories both old and new when it launches in March.
Coffee Talk Episode 2 (subtitle Hibiscus and Butterfly) will bring the lofi barista visual novel back to Switch in spring.
Venba, a cooking tale about a mother immigrating to Canada from India in the 1980s, will also land in spring.
Dordogne, a tale of memory set in the French countryside, will finish a trio of "spring" releases.
WrestleQuest, the wrestling RPG starring Hall of Fame talents and current All Elite Wrestling executive Jeff Jarrett, announced a May release window.
World of Horror is a "1-bit" RPG inspired by the horror combination of Junji Ito and H. P. Lovecraft that will launch next summer after a Steam Early Access stint.
Desta: The Memories Between, a roguelite which features full voice acting and is focused around dodgeball in dreams, will awaken in "early 2023" on Switch; it is the latest project from the creators of Monument Valley.
Curse of the Sea Rats, a "ratroidvania" exploration platformer about political prisoners turned into rats, is also due in early 2023.
Pepper Grinder is a side-scrolling action platformer featuring loads of cash to collect and a hero with a giant drill, and it will come to Switch sometime next year via Devolver Digital.
Botany Manor, a puzzle adventure about raising plants in a stately mansion, is also due in 2023.