I think we had one of these in October?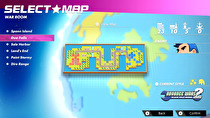 Other items announced in today's Nintendo Direct:
The sole standalone "available today" is GetsuFumaden: Undying Moon, the latest game in the Konami produced series that was announced in an Indie World show last year.
After being spotted on the system eShops back in October, the release date for Advance Wars 1+2 Re:Boot Camp was officially confirmed as April 8.
April will feature a pair of Star Wars, as a remake of 2008's The Force Unleashed was announced for release on April 20 by Aspyr: the motion control options of the Wii version will be included on the Switch version.
Zombie Army 4: Dead War from Rebellion will shoot up the Switch on April 26.
Only shown in the Japanese Direct was a new mystery game from Square Enix: The Centennial Case: A Shijiima Story will release worldwide on May 12. Square has released a localized trailer.
Sega's collegiate simulation Two Point Campus will matriculate on May 17.
Also from Sega is an action / fighting hybrid set in the world of the massively popular Demon Slayer franchise. Demon Slayer -Kimetsu no Yaiba- The Hinokami Chronicles will come to Switch June 10.
Action platformer LEGO Brawls, which brings some elements of belt action to the bricks, will be available in June.
Free to play kart racer Disney: Speedstorm will throw Disney and Pixar characters onto the track - with appropriate weaponry - this summer; it is produced by Ubisoft subsidiary Gameloft.
The SD Gundam series will make a rare appearance in North America with action title SD Gundam Battle Alliance sometime in 2022.
A new Taiko no Tatsujin, subtitled "Rhythm Festival" is due in 2022 and will include more than 70 songs including Undertale's Megalovania and the Legend of Zelda theme. A 500 song subscription service will also be available.