Welp, if you bought any eShop cards for Christmas they're gone now.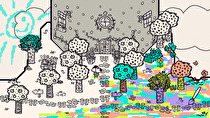 As has become tradition for an Indie World, there are several titles available today on the eShop:
Top-down adventure Chicory: A Colorful Tale, from the creators of Wandersong, will be available today after six months on PC and PlayStation consoles. A stream of it can be found in the archives on our Twitch channel.
Also dropping today is side scrolling action game Dungeon Munchies, which features the ability to cook what you kill to get new powers that can alter the main character's play style.
Board game collection Let's Play! Oink Games will launch today with a collection of board games including a space-themed and financial-themed title, plus more titles to come and online play
Stealth puzzle adventure Timelie, which has elements of time manipulation with the interface of a media player, drops today along with a demo.
A demo for Figment 2: Creed Valley, the rhythm adventure game launching in February, will also be available.