They had a lot of time, but a lot of other items to go over.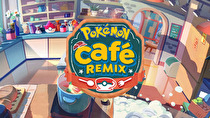 Prior to the Pokemon Brilliant Diamond / Shining Pearl / Legends Arceus news, the Pokemon Presents presentation offered several updates on active Pokemon projects.
Pokemon Unite's mobile version was slated for a September 22 launch, with pre-registration open now. Costumes will be awarded if there are a total of 2.5m and 5m pre-registrations. Following the launch of pink blob Blissey this week, future updates will add Mamoswine and Sylveon as playable.
A "revamp" of 2019's Pokemon Cafe Mix was announced for fall; following the updates, it will be known as "Pokemon Cafe Remix". New Pokemon, puzzles, and training techniques will be among the items added.
A massive login bonus (100 pulls) is now available as part of Pokemon Masters EX's 2nd anniversary: a new story arc will begin in September with Giovanni being added to the game.
Pokemon Go will be adding Galar Pokemon soon, with Wooloo, Skowvet, Failanks, and mascots Zacian and Zamazenta.
Pokemon Home will be updated to support Pokemon Brilliant Diamond, Shining Pearl, and Legends Arceus sometime in 2022: it was not identified if this would consist of one update or two, nor if Sword and Shield would be updated to hold new Pokemon introduced in Legends Arceus.