A lot of headline material in here.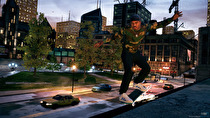 Other quick news items from the Nintendo Direct today:
The first pack of Doom Eternal's DLC, "The Ancient Gods", is available for download now, as well as third person co-op shooter of the 1930s Strange Brigade.
The first part of the Hyrule Warriors: Age of Calamity Expansion Pass will launch this Friday and includes a playable Guardian, new weapons including the Master Cycle, and lab challenges.
Multiplayer strategy game Worms Rumble will be out June 23, and will have a free costume for its first two weeks of sale.
Footage of the Switch version of Tony Hawk 1+2 was shown along with its release on June 25
Mario Golf: Super Rush will have free post-launch updates including New Donk City as a Speed Golf course and unnamed additional characters.
The Life Is Strange series of adventure games will come to Switch in its entirety before the end of the year, as Life Is Strange: True Colors launches on September 10 (day and date with its release on other consoles) and the first two games in the series will be remastered for Switch later in 2021.
Arcade racer Cruis'n Blast will release as a console exclusive on Switch this fall, a quarter century after Cruis'n USA was a launch title for the Nintendo 64.
A version of early 2020 RPG Dragon Ball Z: Kakkarot will release on September 24, along with two parts of the "New Power Awakens" DLC.
Sidescrolling RPG Astria Ascending, which features talent from Final Fantasy in both story (Kazushige Nojima from 10 and 7 Remake) and music (12 composer Hitoshi Sakimoto) will release on September 30.
As revealed yesterday, Super Monkey Ball: Banana Mania is coming to Switch October 5 - and it was revealed to be a remastered version of the first two Super Monkey Ball games from the GameCube.
A cloud version of Eidos Montreal's Guardians of the Galaxy action RPG will release on Switch October 26.
New footage was shown for Mario + Rabbids Sparks of Hope and Monster Hunter Stories 2.
The Japanese version of the direct featured new games in the Tokimeki Memorial (dating sim) and Super Robot Wars (crossover strategy game with all of the mechs) franchises.