Hey, we take 'em where we can get 'em.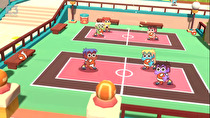 Despite the name, there were actually a few Switch announcements at the 2021 PC Gaming Show.
Dodgeball Academia (published by Humble Bundle) is a game that combines dodgeball with RPG elements, including special throws and HP meters. It will be out in "2021".
Humble will also publish Next Space Rebels, a rocket building sim in which the goal is not only to get into space, but get all kinds of social media love for it. It's due in fall 2021.
A new trailer was shown for Vampire: The Masquerade - Swansong, an RPG set in the World of Darkness tabletop universe with three vampires who have different abilities after being turned. It is slated for 2021: it was previously announced for Q1 of this year.
FAR: Changing Tides, the follow-up to FAR: Lone Sails (2019), was revealed: it is slated for "late 2021".
A Switch version of PC party game Lumberhill will be released in Q4: it's a high-speed construction game with both online co-op and PVP modes.