That's an awfully big number to be throwing around, Nintendo.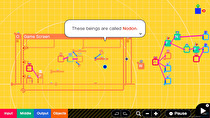 Some brief items from Nintendo heading into Tuesday's Direct:
Although not announced with the game, there is a demo for today's release of Game Builder Garage. The demo covers the entire first lesson of the game.
Nintendo of America have announced their annual June mega-sale will kick off on Tuesday at 1 p.m. ET / 10 a.m. PT (following the Nintendo Direct). The "Digital Deals" will be up to 50% off, though it will not be known until the sale is live if this includes first party titles or is focused on 3rd parties that will be included.