Tear the humans apart with a sweet grappling hook.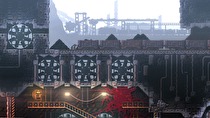 Devolver's next Switch release will be ripping up the eShop in a couple of weeks, while they have acquired .
Olija, a swashbuckling platformer developed by The Skeleton Crew, will be launching on Switch in 2020. The game was originally set to be published by Unties.
Olija is a story about facing the unknown in adversity with an ultra badass mystical harpoon - excited to be partnering with @SkeletonCrewStu!

Coming to Nintendo Switch and PC this year!https://t.co/qPUVoJfyHg pic.twitter.com/BEFx3fzzCj

— Devolver Digital (@devolverdigital) July 11, 2020
Carrion, the "reverse horror" title announced in last year's Devolver Digital Showcase, will launch on Switch July 23.
Carrion terrorizes Nintendo Switch, Xbox One, and PC on July 23! pic.twitter.com/xSUNBuU8Ag

— Devolver Digital (@devolverdigital) July 11, 2020