A true shocase of Shodown.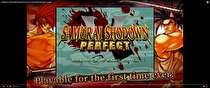 Originally expected to launch last fall, the Samurai Shodown collection for Switch is but a couple of months out.
The collection of fighters, officially known as the Samurai Shodown NeoGeo Collection, will hit Switch on July 28 with a MSRP of US$39.99. A retail version will be available in addition to the digital release.
The collection is a new product by retro compilation specialists Digital Eclipse (Mega Man Legacy Collection, SNK 40th Anniversary Collection), who have also included a version of Samurai Shodown V thought to have been lost in the collection.
Big big announcement! The upcoming Samurai Shodown NeoGeo Collection by Digital Eclipse includes the long-lost "Samurai Shodown V Perfect," recovered from the developer's archives! Trailer here: https://t.co/t3vGIWa0B7 pic.twitter.com/BWH9HURxia

— Frank Cifaldi ate all your snacks (@frankcifaldi) May 27, 2020