...and of course, stability. But no folders.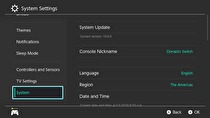 A new version of the Switch's system software has added a couple of highly demanded features.
Version 10.0 can now be downloaded to the Switch and Switch Lite. Among the new features:
The ability to copy games/DLC/updates to the system memory or SD card depending on what is necessary. In a test, a 12.5GB file took approximately 7 minutes to move from a high-speed SD card to the Switch (rev 2)'s memory.
System level button remapping for official Nintendo controllers (the Joy-Cons and the Pro Controller). This includes analog stick and button configurations, as well as the buttons on the Lite.
The Display Play Activity setting has been moved to a new menu called "Play Activity Settings". Currently, the options allow for limiting the display of public play data, or deleting all history.
Inidividual news items can now be bookmarked.
New icons (Animal Crossing; New Horizons themed).
"General system stability improvements to enhance the user's experience."