Will it be your next desert island game?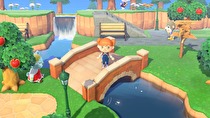 The Animal Crossing Direct has wrapped up and revealed a bunch of new information about New Horizons ahead of its launch a month from today.
The island can be set in either the Northern or Southern hemisphere, which will accurately reflect the calendar with seasons (launch day will be spring in the Northern, but fall in the Southern)
The Nintendo Switch Online phone app will be used for text and voice chat, as well as for scanning QR codes for items created in Animal Crossing: New Leaf or Happy Home Designer for 3DS
Seasonal events and characters won't be in the game at launch, but will be added in post-launch updates
Also added after launch will be the ability to terraform the island, adding new waterways and paths
Animal Crossing Amiibo cards and figures will be supported, though some may not work immediately
Unspecified bonuses will be available for players of Animal Crossing: Pocket Camp
You can watch Casey, Perry and Alex talk about what they thought of it in the video below!