Some familiar game elements are being added, including one very special sword.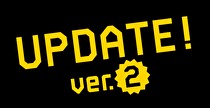 It had been radio silence for almost six months, but Super Mario Maker 2 is finally getting a sizable content drop. In a video uploaded early this morning by Nintendo UK, it was revealed that Spike, Pokey, Frozen Coins, P Blocks, Dash Blocks, and the Master Sword are all coming to Super Mario Maker 2 on December 5.
The Master Sword is the most significant addition and is a power-up that can only be used in the Super Mario Bros style. It transforms Mario into Link, but unlike the simple costumes of the original Super Mario Maker, this Link can slash, dash, and downthrust with his sword. Link also has the ability to drop bombs, block with his shield, and even draw his bow and fire arrows in different directions.
The video ended with a reveal of a new game mode: Ninji Speedruns. Here, you have access to Nintendo-made courses and can race against Ninji ghosts to try to score the fastest time, earning clothing for your Mii character.
These new changes may breathe life into a title that many had moved on from. You can download the update on December 5 and try your hand at speedrunning or cutting down Spike and Pokey with your Master Sword.