So that's six million people having trouble getting Alcremie.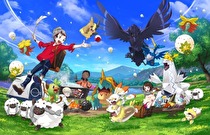 Sword and Shield's opening weekend has set multiple records.
Nintendo of America have confirmed in a press statement that more than 6 million copies of Sword and Shield were sold on the opening weekend (November 15-17), with "just over" 2 million of those sales coming in the first two days of United States sales. The Pokémon Company, official publishers of Sword/Shield in Japan, have also confirmed sell-through of 2m in the opening weekend there. (This includes physical and digital sales.)
Although Sword and Shield are the biggest revenue gross ever for a Pokémon game's opening weekend, this was expected due to the higher retail price of Switch games. Sword and Shield also represent the fastest selling Switch games ever both worldwide and in the United States.