Going to have to wait a few months to get your one-shot kills on.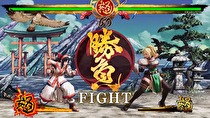 The pinnacle of weapon combat is coming to Switch a little later than planned, but it is bringing some nice surprises.
A new trailer for Samurai Shodown has confirmed a delay for the Western release of the game: originally slated for a 2019 launch, it will now release in Q1 of 2020. The Japanese version will release in December.
Preordering the game will also include a bonus game: the Neo Geo Pocket version of Samurai Shodown 2 has been ported to Switch. Both the bonus and main games will support split Joy-Con multiplayer.