Now you can get one save file per chapter.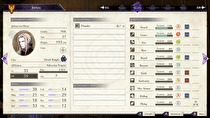 A new update for Fire Emblem: Three Houses has added new features and launched the third wave of the Expansion Pass.
With the 1.1.0 update all players will receive twenty additional save files (5 -> 25), as well as the ability to wear the monastery outfits into battle. A new playable character is also available on one of the routes.
Among the items unlocked for holders of the expansion pass include series regular Anna as a playable character starting following chapter 3 and new events including the opening of the game's sauna and the ability to interact with animals around the monastery.
Screen provided by @AqueousDoubt