Are you OK?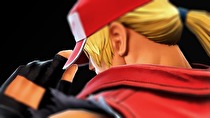 Terry Bogard will be a new challenger tonight.
The fourth pack of the Fighters pass and the fifth DLC fighter overall, Terry will launch later today along with version 6.0. His moveset features command options similar to that of Ryu's and "super special moves" that unlock when Terry is below 1/3 of his stamina or over 100% health. The pack will also include 50 music tracks from the entire history of SNK.
Additionally, new Mii costumes will be available from SNK and Sega: Nakoruru is a Mii Swordfighter option, while Ryo (Art of Fighting) and Iori (King of Fighters) join Jacky and Akira from Sega's Virtua Fighter series.
6.0.0 will add the option to send preset messages in the Battle Arena along with the ability for the room creator to set their own rules or invite Elites only.