Royal references? Check. Side scrolling? Check...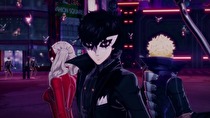 Atlus has dropped a new trailer for the upcoming Persona 5 Scramble that includes the game's Japanese release date.
The musou will release on February 20 in Japan, with no word on a Western release date as of press time. Although the core game will be a hack and slasher, common Persona series elements such as a calendar system will be present as well as what appear to be side-scrolling exploration sequences.
Classic Persona series songs will be available as downloadable background music for the game, and elements of the upcoming Persona 5 Royal will be in the game as well. The story is set following the events of the original 2017 PS3/4 RPG.