No, Thunderful isn't releasing a triple team this week.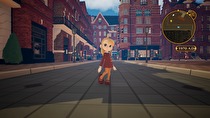 Well, now that the site is blocked in China, what do we do for an encore?
Unleash the Winnie the Pooh jokes. As for the releases this week, although there isn't really a full priced retail release there's a fair few things to watch for. Neal wasn't so hot on Destiny Connect, but we're getting a new touchscreen only game in Anthill, that odd puzzle game Day and Night, and some strong ports in Monaco, Skullgirls, and Cat Quest II.
That's a pretty full week on its own, but surely that can't be all for the RPGs.
We're talking about the Switch here, though after a stray 3DS and Wii U game snuck out last week who knows. Anyway, the torture-riffic Mary Skelter 2 is due Tuesday, and Jordan's been having some, uh, fun with that. If you're looking for some other forms of self-abuse, there's a shooter blatantly advertising itself as bullet hell in Ghost Blade HD.
And... what's this Dragon Quest thing Japan got?
It's an expansion for the MMO, so it's also coming out on the Wii U and not leaving Japan.
North America
Switch Retail
Let's Sing Country 2019 (US$44.99/C$56.69: Friday)
Destiny Connect: Tick-Tock Travelers ($39.99/$50.39: Tuesday)
Street Outlaws: The List ($39.99/$49.99: Tuesday)
Raging Loop ($29.99/$37.79: Tuesday)
Switch eShop
Mary Skelter 2 ($39.99/$50.39: Tuesday)
Into the Dead 2 ($34.99/$44.09: Friday)
Skullgirls: 2nd Encore ($24.99/$33.49: Tuesday)
Winter Sports Games ($24.99/$33.49)
PBA Pro Bowling ($19.99/$25.19: Tuesday)
Day and Night ($19.99/$25.19: Tuesday)
Dark Devotion ($19.99/$24.99)
Lethis - Path of Progress ($19.99/$24.99)
Tangle Tower ($19.99/$24.99: Tuesday)
Ultra Off-Road 2019: Alaska ($18.99/$23.93: Friday)
Ghost Blade HD ($14.99/$18.99)
Monaco: Complete Edition ($14.99/$18.89: Monday)
Cat Quest II ($14.99/$17.99)
O/X Logic Puzzle 1000 ($14/$17.64)
The Park ($9.99/$12.99: Tuesday)
Soul Searching ($9.99/$12.99: Friday)
Vortex Attack EX ($9.99/$12.59)
Haunted: Halloween '86 ($9.99/$12.49)
Anthill ($9.99/$12.49)
Tennis Go ($8.99/$11.33)
Pixel Gladiator ($6.99/$8.81: Friday)
The Legend of Dark Witch ($6.99/$8.81)
Tower Climb ($6/$7.50: Sunday)
Jewel Rotation ($5.99/$6.99: Friday)
Fear of Traffic ($5.5/$6.29)
Creepy Brawlers ($4.99/$6.29)
Pizza Bar Tycoon ($4.99/$5.99: Friday)
Deep Space Rush ($4.99/$5.99: Friday)
Dark Veer ($4.49/$5.49)
Party Treats ($1.99/$2.49: Friday)
Wii U eShop
Mountain Peak Battle Mess ($0.99/$1.25)
Switch Archives
Golf ($7.99/$9.87: Friday)
Sales and Price Drops
Highlights: Limited Run Games titles are on sale until the 25th including US$4.49 Cosmic Star Heroine and Night Trap, select Arcade Archives titles are on sale until the 30th. Spreadsheet
Europe
Switch Retail
Destiny Connect: Tick-Tock Travelers (€39.99/£35.99: Friday)
Let's Sing 2020 (€39.99/£35.99: Friday)
Dusk Diver (€39.99/£34.99: Friday)
Street Outlaws: The List (€39.99/£34.99: Tuesday)
Switch eShop
Mary Skelter 2 (€39.99/£35.99: Wednesday)
bayala (€39.99/£35.99)
Into the Dead 2 (€34.99/£31.49: Friday)
French Highway Code (€29.99/£26.99)
Winter Sports Games (€24.99/£21.79)
Skullgirls: 2nd Encore (€24.99/£19.99: Tuesday)
Dark Devotion (€19.99/£17.99)
PBA Pro Bowling (€19.99/£19.99: Tuesday)
Lethis - Path of Progress (€19.99/£17.99)
Ultra Off-Road 2019: Alaska (€17.99/£16.99: Friday)
Day and Night (€18.15/£16.79: Tuesday)
Tangle Tower (€16.79/£15.49: Tuesday)
Ghost Blade HD (€14.99/£13.49)
Monaco: Complete Edition (€14.99/£13.49: Monday)
Sea Salt (€14.99/£13.49: Tuesday)
Cat Quest II (€14.99/£12.99)
O/X Logic Puzzle 1000 (€12.72/£11.39: Wednesday)
Double Switch - 25th Anniversary Edition (€12.99/£11.79: Monday)
Soul Searching (€9.99/£8.99: Friday)
Anthill (€9.99/£8.99)
The Park (€9.99/£8.99: Tuesday)
Tennis Go (€7.99/£7.19)
Pixel Gladiator (€6.99/£6.29: Friday)
The Legend of Dark Witch (€6.99/£6.29)
Desktop Rugby (€6.81/£6.07)
Fear of Traffic (€5.69/£5)
Tower Climb (€5/£4.50: Sunday)
Deep Space Rush (€4.99/£4.99)
Jewel Rotation (€4.99/£4.49: Friday)
Pizza Bar Tycoon (€4.99/£4.49: Friday)
Dark Veer (€4.99/£4.49)
Creepy Brawlers (€4.5/£4)
Party Treats (€1.99/£1.79: Friday)
Switch Archives
Golf (€6.99/£6.29)
Japan
Bloodstained: Ritual of the Night (¥6028)
Dusk Diver Yuusenchou (¥5280)
Dragon Quest X Ibara no Miko to Horobi no Kami Online (¥4180)
Musnyx (¥3222)
Trüberbrook (¥3500)
Dark Devotion (¥2200)
Splash Blast Panic (¥1740)
Ghost Blade HD (¥1500)
You Died But A Necromancer Revived You (¥930)
Golf (¥838)
The Legend of Dark Witch (¥770)
Sisters Runner (¥500)