After a 24 hour livestream last week, Galarian Ponyta has finally been revealed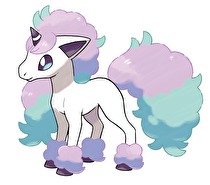 Making it's home in the forests of the Galar region, Galarian Ponyta makes its grand debut in Pokemon Sword and Shield.
It was first teased last Friday in a 24 hour livestream, which gave viewers a sneak peak at its design. In a new trailer released today, we learned that Galarian Ponyta will be a Psychic type and will be dubbed the Unique Horn Pokemon, as opposed to Kantonian Ponyta being a Fire type, being called the Fire Horse Pokemon. Unique to it is its brand new ability, Pastel Veil, which prevents the user and their allies from being poisoned. It can even be used to cure other Pokemon's poison by switching into them.
Galarian Ponyta will be exclusive to Pokemon Shield, which will be releasing on November 15, 2019.