No, you have seen this movie before.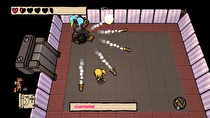 Ittle Dew 2+ is currently delisted from the eShop because of the actions of its original publisher.
Originally released in 2017 for Switch, Ittle Dew 2+ was developed by Ludosity and originally published on Switch and other platforms by Nicalis. According to Ludosity CEO Joel Nystrom in a Twitter post this morning, Ludosity cancelled the publishing contract for the game with the aim of self-publishing it several months ago, and Nicalis originally planned to transfer the publishing rights for the game. Following several months of Nicalis silence, Ittle Dew 2+ was delisted from the Switch eShop and all other console stores late yesterday.
Well after the usual ghosting for a few weeks I today wake up to find that they just couldn't be bothered, and just delisted Ittle Dew 2 from all console store fronts.

— reallyjoel (@reallyjoel) September 20, 2019
Nicalis has been under a storm of controversy in recent months, including an "April Fool's" joke that included an update for a game Kickstarted in 2014 and a recent Kotaku expose that includes multiple racist statements, forced alcohol consumption, and abusive acts from Nicalis founder Tyrone Rodriguez.