So the Battle Network Legacy Collection will have... 20 games?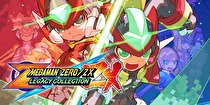 The Mega Man Legacy Collection train will start rolling again in 2020.
Capcom have announced a Mega Man Zero/ZX Legacy Collection for release on Switch (and other consoles) on January 21, 2020. The four Mega Man Zero (GBA) and two ZX (DS) titles will be in one package, with a MSRP similar to the other Legacy Collections of $29.99 US.
Among the extras in the package are a casual mode similar to 2010's Mega Man Zero Collection (DS) where spikes and pits don't cause death, optional midpoints, and a new Z Chaser race mode.