*site director intensifies*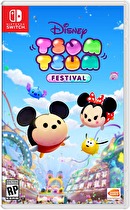 The week before Pokémon has now tripled in release intensity.
In separate announcements today, Disney Tsum Tsum Festival and New Super Lucky's Tale both were announced for release on November 8. They join the remaster of Layton's Mysterious Journey for Switch in releasing one week before Pokémon Sword and Shield.
Other similarities between Tsum Tsum and Lucky's Tale are their announcements (in Nintendo Directs, Tsum Tsum in February and Lucky's Tale last month) and their $39.99 MSRPs.